The Room is the greatest mess in cinematic history. It is the Citizen Kane of bad movies. It is the answer to the question of what would happen if something went so far below a zero that it somehow became a 10.
Its awful. It makes no sense. Characters existing is the extent of their existence. It has character moments, arcs and plot that are dropped in the same scene they're introduced. It is edited at random. In the language of cinema, nothing in The Room works.
This movie is unwatchably watchable. If you were to sit down and try to watch take this seriously, it would feel like you're "being stabbed in the head." But sitting down to watch this as a delusional vanity project gone awry and it becomes one of the best 90 minutes you'll get out of a film.
Tommy Wiseau is the center of the film on screen, as really good guy Johnny, and off screen as well. This man directed, wrote, adapted, produced, starred in and funded the entire $6,000,000 film. Yes, this movie costs $6,000,000.
This entire film is a series of things just happening. Its almost more of a mockumentary around a guy and his life than it is a proper dramatic film.
This is the cinematic equivalent of giving any random person a budget and a script and a camera and a crew. It should make you appreciate how "good" even a regular bad movie is.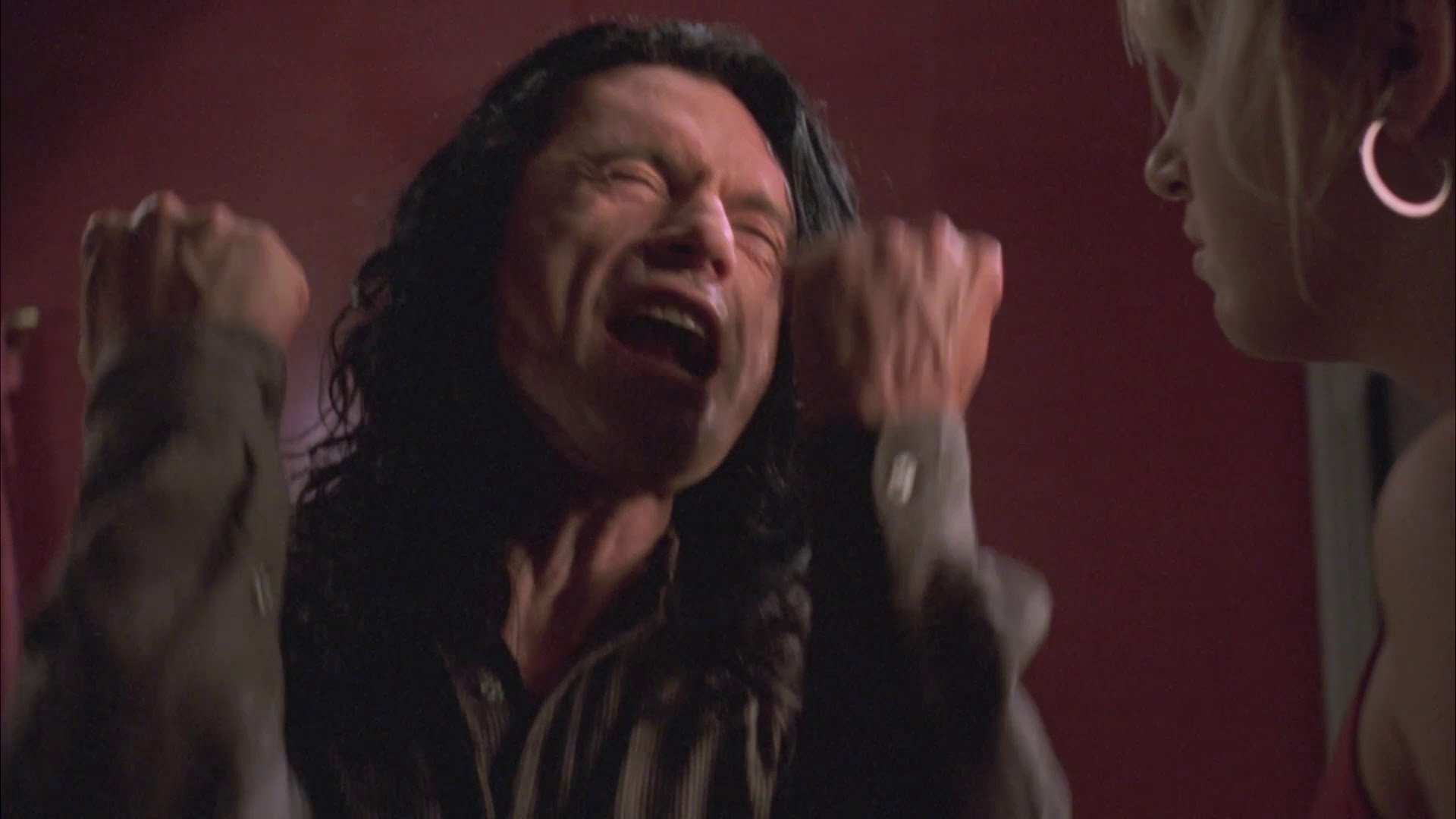 Tommy cannot enunciate. Tommy cannot dress himself. He's an alien in human skin.
The Room is what the result would be if an alien species studied late 90's soap opera TV, had a computer program amalgamate a script and then was performed by the aliens in human skin like the first Men In Black movie.
It's not difficult to find secondhand embarrassment for the actress portraying Johnny's "future wife" Lisa. She's given an awkward wardrobe, absurd "motivation" and has 4 or 5 sex scenes. The sex scenes are uncomfortable. They last the entire length of the bad and cheesy love songs. Johnny pounds away at her belly button, has a zombie orgasm and then shows the entire world his butt. Why? Because its "Hollywood", I guess.
Time passes in the film without any establishment of time passing. Characters talk about meeting up tomorrow and are in the next scene. No establishing shots, no passage of time shot, no CHANGE OF OUTFITS! They just happen.
Set design is bizarre. Like a showroom apartment from a 2003 Ikea. There are candles and photographs of spoons everywhere.
The logic of the film is bizarre. The game of football is just awkwardly hot potato-ing a ball around. Marijuana is considered an aggressive "fly off the handle" drug. Attempted murder is quickly forgiven. Stumbling into a garbage can sends you to the hospital.
The dialogue of the movie is completely bizarre, which probably is why the characters are so completely bizarre with actions that are completely bizarre.
Claudette becomes the voice of the people at one point, literally saying "What are these characters doing here?"
Tommy Johnny responds to the story of a woman being hospitalized by the beating of a jealous ex-lover with "Ha ha ha what a story, Mark!"
Characters will bring up something in conversation and then say "I don't want to talk about it" after them bringing it up.
Adultery is committed and forgiven immediately, but then unforgiven about 12 seconds later in the same scene.
Does any of this sound like it was written by a human?
"I did not hit her. I did not. Oh hi Mark."
"Anyway how's your sex life?"
"Anything for my princess ha ha ha!"
"Its not over everybody betray me I fed up with this world!"
"If a lot of people love each other the world would be a better place to live."
"Cheep Cheep Cheep Cheep Cheep."
The best performance in this entire movie comes from the least trained actor on set. Drug dealer Chris R, played by former Olympic bobsledder Dan Janjigian, is excellent. He's legitimately intimidating and terrifying. There is more conviction in his lines than the rest of the entire film. But even a performance that good is still undermined by The Room as people just appear in the scene like its Looney Tunes while shouting awkward lines. Somehow the violent, giant, gun weilding Chris R is subdued awkwardly by Johnny and his best friend Mark while Lisa yell cries about drugs at a whimpering Denny, Johnny's pseudo son.
There's a sad truth in film though. While its a mess, its clearly written from some place of truth or experience in Tommy Wiseau's heart. There's something of a biopic going on here, where nice guy Johnny gets manipulated, lied to and taken advantage of by the people close to him. A lot of the dialogue sounds like something from a bitter ex-lover.
Almost the entire male cast is portrayed as sexual vultures. Lisa is a petulant whore. Mark wants to, and does, bang Lisa. Denny wants to bang Lisa. Peter talks about how great Lisa is. Some no-name at the party has one line in the movie and it is "Lisa is so hot" while making a horny face.
Writing this may have been cathartic and even necessary for Tommy, but then turning this play into a film became an ego stroke. Some characters exist only to show that Tommy Johnny is a great guy.
Note: Due to Johnny clearly being a proxy for Tommy, I left in all the places I wrote Tommy.
One of these characters is Mike (pictured) aka Me Underpants Guy, who needs a private place to fool around with his girlfriend. So of course great guy Johnny allows them to use his couch whenever they want.
One of the nonsense characters is Denny, the orphan who was too old to adopt so Tommy Johnny just pays for his entire life as a pseudo father. All he does is be sexually creepy and weird, but Johnny loves him anyway because Johnny is so great.
One of these characters is Claudette, the future mother in law, who essentially repeats how Johnny is rich, nice, caring and an amazing man that all women would love to have.
One of these characters is the Flower Shop Owner, who exists to tell Tommy Johnny how he's a great customer and great boyfriend.
Most of the characters essentially exist to say "Johnny, you are so great. You're the best person" in a variety of ways.
Even Mark, the antagonist of the film and Johnny's "best friend" who is banging Johnny's "future wife" which frays and destroys the relationships in the plot of movie, will regularly talk about how great of a dude Johnny, his best friend, is. He will say this two seconds after putting his shirt on after having awkward staircase coitus with Lisa.
In years since, Tommy Wiseau has said he was making a dark comedy or a satire of a drama. Absolute crap. He went for a serious American drama and failed so miserably he made a comedy of errors so great he crafted one of the greatest comedy films of all time. The film grossed $1800 in its theatrical release. Marketing of the movie was a billboard in LA, that stayed up for 5 years, and Tommy Wiseau throwing pamphlets at people prior to the films premiere.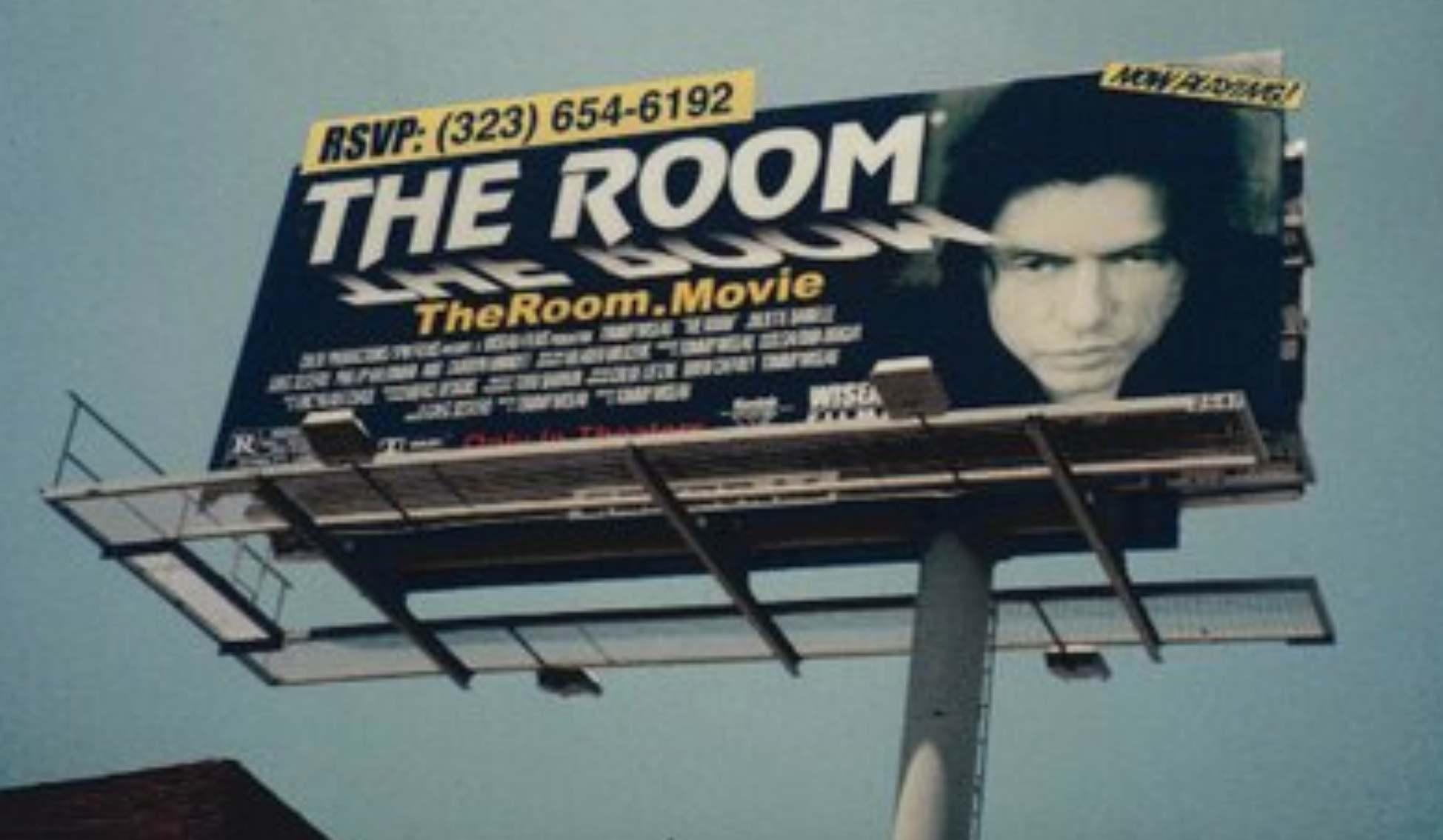 The film is a complete mess. It takes itself seriously. It wants to hit heavy but is undermined in wild swings of tone. Random thrown in scenes interrupt any pacing you may find. Its a movie that doesn't know what a movie is. Writing, dialogue, acting, screenplay, editing is atrocious.
The movie climaxes in a suicide after Tommy humps Lisa's clothing following a lackadaisical condo trashing after Tommy shove fights Mark and tells Lisa she's a bitch. That literally all happens inside 10 minutes.
It was written as a stage play and could not get distribution as a book. Logically when you encounter those obstacles you turn it into a self financed film. The production crew was replaced twice during filming.
So how did this movie become a big deal? Well, The Room was played on loop for April Fools 2009 by Adult Swim. That was the movie's big break. Beyond that it had a small cult following in LA among film industry people.
How did I find this movie? I wanted to watch Room, the Brie Larson film that won an Academy Award. I didn't think twice when I saw a theatrical showing of The Room, so I mosied on down to the historic Garneau Theatre. Imagine my surprise when I got this film, complete with fans throwing plastic spoons and singing along to the love songs. My brain couldn't compute. It was one of the worst movies I've ever seen. And it was great. Everyone should see this movie once. Twice if you're feeling cute.
@Adam_Pyde on Twitter, Adam Reviews Things on Facebook. CanadianAdam on Twitch.