Venom has some serious suckage. It isn't good, but its good enough. Put this movie on a pie chart and a good chunk is like Suicide Squad and The Amazing Spider-Man 2 had a baby. But being a bad movie doesn't mean it is terrible because it is quite a bit fun. Seriously, two thumbs up.
I was already kind of negative before this movie came out. It looked like a bit silly, and Venom without Spider-Man isn't exactly interesting. Eddie Brock is Venom because of Spider-Man. The trailers made it look visually messy or bland.
But then I heard some good, or at least not horrendous, things from people and the box office returns were positive. So, why not see it? What else am I doing at 5 PM on a Friday when I have to be up at 7 AM the next morning? I haven't been to a movie since either Rampage or Ant-Man and The Wasp. Whichever came first. If nothing else, I heard the post-credits scene is worth a $14 ticket.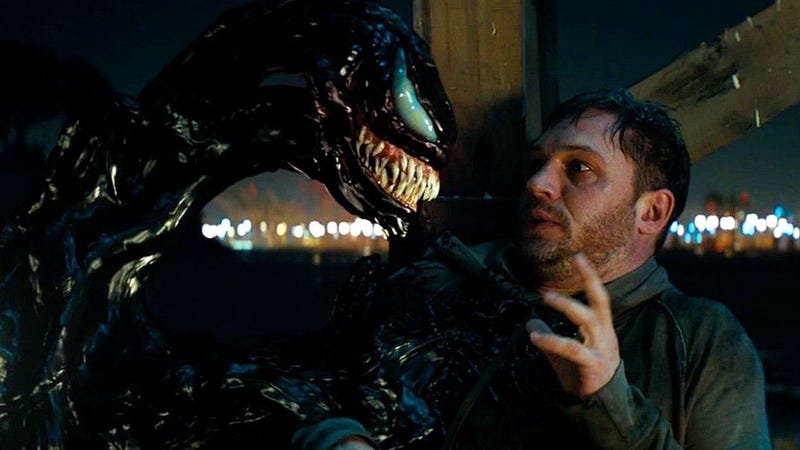 Everything that isn't Eddie Brock and Venom is a train wreck. But the train wreck never stops. You know how in another Tom Hardy movie, Mad Max: Fury Road, the chase builds and builds and gets one percent bigger then two percent bigger and then three percent bigger? This is if a train wreck crashing into more train wrecks found a way to not stop and still arrive at its destination in a pile of twisted metal and fire like a Looney Toons skit. When other characters are on-screen you're sitting there like "WHERE IS VENOM AND EDDIE?"
The dynamic is where the fun is. Think of a buddy cop movie. Venom is beyond the bad cop, he's an asshole. He's just absurd. Eddie Brock is mumbling, bumbling doofus.
MORE POWER.

No calm down.

MORE POWER GO NUTS.

Come on relax.

MAXIMUM VENOM POWER.

Oh Jeez.
The last person you should ever listen to about their own movies is Tom Hardy. Mad Max: Fury Road is fantastic and while this movie isn't good, his stuff in the movie is the best part of it all. Their interactions are fantastic. His complaints that all his good stuff was cut from the film seems silly, since his stuff was the only good and best part of the whole movie. If there was 40 minutes of missing footage of those two then I am totally down for an extended cut. Give it to me. The two of them have some absolute money lines together.
I'm not lying or being a sensationalist fanboy when I say that you can have a good time at this movie for that alone.
Now, if you're looking for a nice cohesive well told story with multi-dimensional characters? Nah (Although that is kind of the movie's charm).
The first 30-ish minutes of this movie is nearly walk-out bad but then at minute 31-ish it finally does something. The beginning of the movie is the kind of stuff you're going to skip past on any re-watches.
Worst super hero movie villains list: Steppenwolf, the Dark Elf guy from Thor 2, Abomination, Bulls-Eye, Apocalypse, Doomsday, Venom era Spider-Man 3, Electro, fart cloud Galactus and then fart cloud Parallax. There are a ton of terrible villains in these movies.
You'd agree those are all terrible? Lets go about 12 rungs down the ladder. Acting. Motivation. Music. Presentation. Design. Character. The absolute worst.
The Life Foundation and Evil Business Guy Carlton Drake and Riot are some of the worst villains. They're from a pre-Avengers world where the motivation is "They're just evil. Who cares. Its comic books. Shut up. Bad guy does bad stuff."
Carlton Drake is making out and having gross PDA with Being Evil. And the speed at which his Evil accelerates is numbing. Just laugh. They literally combined every Evil Businessman trope into one character and then turned up the suckage. Doesn't get any better any further into the movie, just gets worse. There were points in his Evil Plan where I couldn't help it but laugh during a Super Serious Scene.
Poor poor love story and love interest. She gets the bare minimum of any form of character you could give someone.
Shaky and suspect dialogue in a lot of scenes. "Have a nice life!"
A great chase scene and a couple of neato fight moves, but the more CGI that is on-screen the bigger a visual mess you're suffering through. I can't imagine the migraine I would get in 3D. A nighttime fight between a black CGI goop monster against a charcoal grey CGI goop monster splooping punches of gloopy impact is just… what were they thinking? There are moments in the big action climax where I literally couldn't figure out what is happening or who is who.
The PG-13 saps some of the life and impact from scenes. There are things that should be more visceral than they are. It doesn't need to go full vile gore-sploitation mess, but Venom can be a really visceral character. There are elements of body horror and gore to his story and actions. Some of the actions and motivations feel a bit limp as the numbing of anything too extreme is a bit lame. Imagine if you never got more than sideboob in a movie about strippers? Either be PG-13 or be R but trying to be in the middle results in a tonal mess.
In a world where Logan and Deadpool and Dredd exist, you can have a successful R rated Venom.
I still liked it quite a bit. I wouldn't really say it felt tonally different or really all that distinct. It fits in with the pile. There's a good, charming performance and a few neat ideas here that are holding that train wreck together as it rolls into the station. I almost don't think this movie "works" without it being terrible where it is terrible.
As for a sequel, the movie is there and the stinger makes you want to try again and show up again. Take another swing and get someone who has a clue to put it together. Or maybe keep it a bad mess. I don't know. It was fun and sometimes that's all a movie has to be.
@Adam_Pyde on Twitter, Adam Reviews Things on Facebook. CanadianAdam on Twitch.